Over the past two years, the ViarLive team has strived to deliver a user-friendly and efficient virtual tour builder for real estate agents, and it has been our pleasure to serve you. We want to express our sincere appreciation for your continued support and trust in our platform.
As our community has grown, we have invested in improving the quality and breadth of our services. To maintain and enhance the level of service you expect from us, we are excited to introduce some significant new features and a more sustainable business model. In this article, we will walk you through the upcoming changes and how they will benefit you.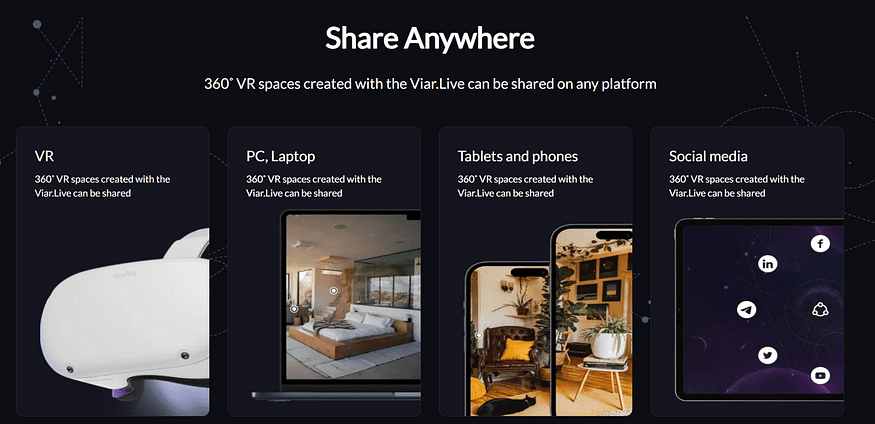 Introducing the Premium Subscription Model
To provide a more flexible and tailored experience that meets your diverse needs, we will be transitioning to a Premium Subscription model. This new structure consists of three distinct levels: Basic, Premium, and Agency.
Basic: This is our free tier, offering limited access to our services. While it may have some limitations, it still provides a valuable way to explore and share your virtual tours. It covers up to 2 tours, up to 3 spheres on tour, and 24/7 customer support.
Premium: Our enhanced tier offers additional benefits and will be available at a monthly cost. By subscribing to the Pro plan, you'll unlock exciting features that elevate your virtual tour experience. You'll benefit from up to 10 tours, unlimited spheres on tour, and 24/7 customer support.
Agency: Our highest tier provides full, unlimited access to all our services and is available at a monthly cost. With the Premium plan, you can enjoy the complete range of features and make the most of your virtual tours. This subscription plan includes unlimited tours, unlimited spheres, and 24/7 customer support.
Getting Detailed Information and Support
Our team is fully dedicated to ensuring a smooth transition for all users. Detailed information about the features and pricing of each subscription level will be made available on our website and in future communications. If you require further assistance or have any inquiries, please don't hesitate to reach out to our support team at support@viar.live. We are here to help address any concerns and provide the support you need during this transition.
At ViarLive, we are committed to delivering an even more robust and rewarding virtual tour experience. We are grateful for your understanding and continued support as we introduce these new features and the Premium Subscription model. By making this change, we can maintain the high level of service you expect from us while providing a more tailored and flexible experience.
Thank you for being a valued member of our community, and we look forward to continuing to serve you under this new model.